📝 Outboard cabin cruiser
3 months ago
by
🇦🇺 Schmango
(
Able Seaman)
Flag
All good - I'm enjoying the chat no need to move away


▲
⟩⟩
No likes yet
This member will receive 1 point
for every like received
📝 Outboard cabin cruiser
3 months ago
by
🇦🇺 Schmango
(
Able Seaman)
Flag
Hi everyone. I started this cabin cruiser 10 years ago and decided to blow the dust of recently . It's my own design from scratch and I'm completely winging it as I go. The idea is for it to be a knock about model that I can use with my 6yo son . I've designed it with high freeboard to be used in choppy water and I have an ep1 outboard that I'm going to bolt on the back . ….. I might go for twins but that could be ambitious for a 28" model . Keen to see how others have built the outboard well area and steering set up. Cheers
▲
⟩⟩
Colin H
BOATSHED
DaveWhittaker
Madwelshman
Len1
Skippydrew
dave976
jbkiwi
📝 FIRE TENDER POWER
4 months ago
by
🇦🇺 Schmango
(
Able Seaman)
Flag
I restored the same boat recently and installed two mabuchi 775 brushed motors via a single cheap eBay 480esc and 12v lead acid battery. Props are 50mm and it really moves however I had to add water cooling as I over heated one of the motors. Run time isnt that great though - maybe 10 mins . If you understand brushless and have the budget then that is the way to go I think. I didn't want to spend much and don't use it enough to justify the cost of brushless. I pulled the motors from an old hitachi drill!
📝 Vosper 46" fire boat motors and prop
Flag
Hi all - finally got to sea trial this today . The most notable issue is shaft alignment which is why it sounds like a two stroke engine . The 5mm shafts are very old and have some pitting in the metal which is strange. There is a small amount of play with them which I'm guessing is causing the noise . The motors are cheap 700 size drill motors from eBay which do the job I think. Props are 45mm but I couldn't find counter rotation in 5mm props so they are the same which isn't a big issue.
Turning circle is terrible and it wants to nose dive even though the lead acid battery is towards the aft. Looking at other models of this boat it seems to be common though ? Is it normal to have the props and rudders a fair way apart as per the pictures?
I restored this model so I don't know it's history or age - it has definitely been built by an amateur and was possibly petrol powered once. I'm guessing it's from the 1970 era .
Overall it's a great boat and I'm happy with it .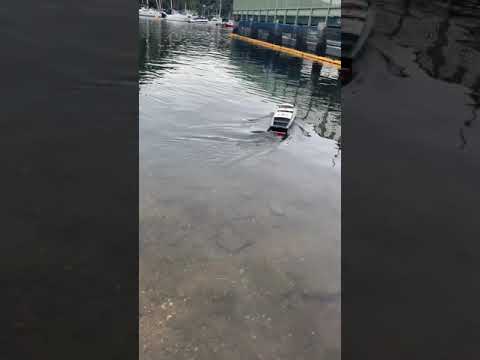 ▲
⟩⟩
Rover
Colin H
Martin555
📝 Vosper 46" fire boat motors and prop
Flag
Thanks for this info but I couldn't find any 5mm - they are 4.8mm surely they are not the same ? Anyway I will have a look at drilling out a 4mm and using a lock nut . My concern drilling is getting it out of centre as I don't have a drill press.


📝 Vosper 46" fire boat motors and prop
Flag
Hi - I have the motor that's in the pictures I posted - it has similar specs to a graupner 700 but is out of a leaf blower 🤣.
I found an m5 45mm prop but not a counter rotation option so I will ha e to see how it goes with two right hand rotations . Anyone noticed much prop walk/ torque issues here ?
As a back up I have also purchased two 5mm to 4mm shaft couplings which are designed for motor to shaft applications but I might try and adapt them to the prop end by cutting an m4 screw for the prop end and attaching the prop that way if the props I have ordered don't work.
Thanks for your help - it's greatly appreciated
Cheers
Murray
📝 Vosper 46" fire boat motors and prop
Flag
Thanks Doug - I am running raboesch on my other model amd they are the best but this boat swinging 60mm props are going to be too big for 700 size motors I think.... ?
How do you go about re-bushing the shaft ? That might be a good option .
Appreciate your advice -very helpful
Cheers


📝 Vosper 46" fire boat motors and prop
Flag
Hi all
Im getting close to finishing restoring this monster and im stuck with a few questions that I hope you can help with.
1) have have two 700 size motors which I want to run through a 480 amp esc with a 12v battery. Will that get it planing ok on 45mm props? am I going to blow it up?
2) the old boat has 5mm (M5) shafts and i cannot find a 5mm prop to go on the shaft. I dont have a lathe is there another way to reduce the props shaft to M4
3) Does anyone know where one can get 5mm (m5) props.
Cheers
📝 46" Firefloat What Motor/Battery
5 years ago
by
🇦🇺 Schmango
(
Able Seaman)
Flag
Hi gents
I too have the same boat and have the same question . I only have shafts and rudders so I am looking for the whole package. I know little about brushless too but I think a boat like this needs them. From the research I have done I can see 880kv twins with 2 60 Amp water cooled esc will
Work. I would
Like to know what brand motors I need and what prop sizes to and esc brand to get. I'd like 20 min run time too.