Hi Peter, unfortunately doesn't get used a lot now, even though the water is just down the road. The boat ramp is on the wrong side of the bridge, so yachting is out of the question, unless i want to travel 12km out on the peninsula to the boat ramp by the Gulf Harbour marina. All the beaches round here are very shallow sloping sand, and the tide goes out for miles.
The only way I could launch it is to drop it off on the beach, and wait for an incoming tide. I used to take it out from the beach in the previous pic, which is 20 mins south, with better access, but since I've moved up here I've found it difficult to launch anything. The tide goes right out in the estuary, leaving rocks at the entrance, so is only useable from 1/4 tide incoming, and min 1/4 tide outgoing. Bit of a pain. The 12ft racing yacht is ok for beach launching though.
pic 1, I'm standing on a rock ledge in the middle of the estuary,- had to park my dinghy (on right) for a few hours, along with 2 bigger boats, (one went right over the rocks and smashed the prop on his 80hp outboard to bits) - estuary is only ankle deep with this very low tide. It's a shame, as it's a brilliant boating area right up the coast.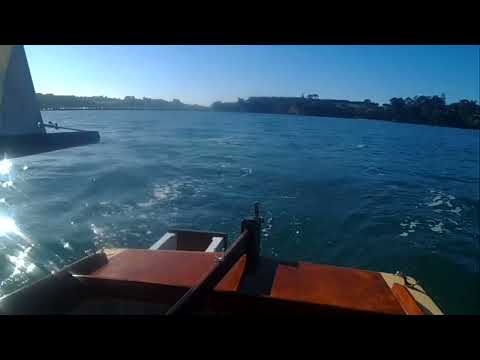 ▲
⟩⟩
stevedownunder
MouldBuilder
pressonreguardless
GaryLC