At the Nov 19, 2023 meet of the SSMBC this Bancroft 1/16 scale landed the 1/16 scale motorized gun (these were not called tanks). Link to my video is below.
The weather was excellent at about 85F, very little breeze, and the pond was in tip-top shape, one of nicest days and pond condition I've seen in my 50+ years running at this site!
A little trivia: the US "Jeep" or escort carrier was about 495 feet long. This LCM is 1/16, and the dock is about 30 feet long. 495 feet at 1/16 scale is just under 31 feet. So.... here is a good size comparison.
Lew
Florida ☀️🚤, USA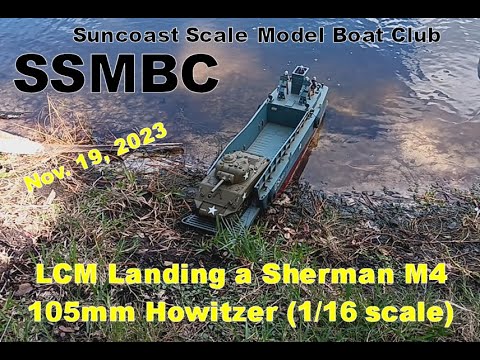 ▲
⟩⟩
oefranz
algon
luckyduck
pressonreguardless
RodC
BarryS
MartinW
Len1
DWBrinkman
roycv
jumpugly
Mike Stoney
ARL58
River Rat
Colin H
RNinMunich
EdW