Most recent posts shown first (Show Oldest First)
(

Print Booklet

)
📝 Beam Trawler Build (single drag net)
29 days ago
by
🇺🇸 LewZ
(
Midshipman)
Flag
I have been asked by Mike (on this forum) on how I made the fish net for my trawler, so I decided to enter this in a build blog for anyone else to view.
Building a trawler was not one of my priorities in building RC scale model boats. However I came across a deal I could not pass up and this partially built boat (33-inch long Artesania Latina "Helen") was part of the package. Despite the tall masts and netting, this is a very good sailing boat, forward and backward.
I renamed the boat "Elena" with "H-103" as the registry number simulating that it would be out of Hull Harbor, U.K.
When I decided to continue the build (after some de-construction) from the deck up, I also looked into similar real boats off the east coast of the U.K. I downloaded photos and information on how these drag trawlers operated and the type of nets and equipment on board. (I am not a commercial fisherman so I'm sure someone will correct me here.)
It looked like this type of trawler is called a "beam trawler" where the boom holds the horizontal "beam" that spreads the net apart. The net is open on the front end with the top edge strung with floats (here, beads) and the bottom edge with weights (here small fishing line sinkers). The top edge is pretty much aligned with the beam and the bottom edge is longer so it allows the net to open. My understanding is that this type of trawler would lower the net in shallow water and drag the net along the bottom.
I started with using wedding veil material for the net. Probably should have used a darker color but my choice was limited, so we have a "new" net. As the net would be scrunched up on the deck it made no sense to make it too long. The bottom end is just folded and the sides are hand stitched. Supporting lines were added to the top and bottom leading edges to "strengthen" the net as well as hold the floats and weights.
All the rigging is different with emphasis on making this look like a working boat. This includes numerous blocks and tackle. A few markers (floats, photo 7) are on the deck as they were commonly used. The three man crew (Tamiya 1/20 scale pit crew) seems to be handling everything well. The fish are a combination of plastic fish (photo 6) supplemented by some that I printed on my color printer and laminated with a little filler in-between to give the depth.
For anyone interested I have a 2015 "on board" video on Youtube: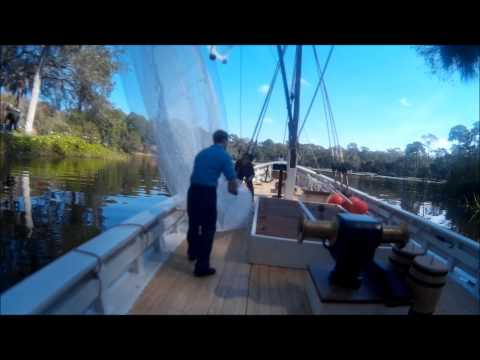 ▲
⟩⟩
flaxbybuck
Stephen T
Mike Stoney
Graham93
DWBrinkman
johnf
boatmam
Len1
Newby7
dave976
cdnfurball
RodC
GaryLC
TonyAsh
hermank
luckyduck
Balsbasher
Colin H