Most recent posts shown first (Show Oldest First)
(

Print Booklet

)
📝 She's Maidened!!
Flag
Maidened the Kristina today. Although a little overpowered due to my motor and battery choices, she didn't need any extra ballast and handled quite nicely. I'm very happy with her😀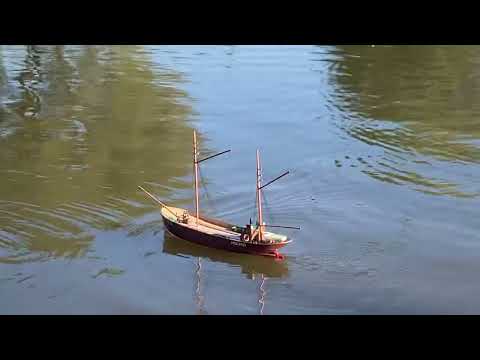 ▲
⟩⟩
jbkiwi
rolfman2000
stevedownunder
Ron
Dumaspittman
pressonreguardless
Colin H
📝 Ready to maiden
Flag
Quick one y'all. She's as ready as I can make her, nav lights done today and a few more details. Let y'all know how she floats tomorrow.
Cash
▲
⟩⟩
pressonreguardless
Ron
Norway
Colin H
DWBrinkman
📝 Bowsprit, rigging, ratlines..
Flag
Hi y'all. I got the aft ratlines completed over the weekend, I did the mast rigging and bowsprit a week before. Before I go on, I must say that modelers who build static models of full rigged sailing vessels have my undying admiration. I'm telling y'all, my next boat might be a piece of pine plank with one coat of Krylon, a motor and rudder…🤣
Anyway, the rigging actually went pretty easy, for the attachment points I used 4x8 mm screw eyes that came in an assortment from Amazon. I used a pin vise to drill the hull, mast and bowsprit, added a drop of glue and screws them in place. The bowsprit is interesting, as the aft end is offset from the ships centerline and then angles over to where the fwd tip is in line with the bow. The plans show it, as does the instructions..thought it was odd but that's what the plans show….
The ratlines. Let's get to that. I used cut down 1/2 inch brass cotter pins for the attach points on the top of the bulwarks, and the aforementioned screw eyes on the masts. I had a little issue where my drilling on one hole went awry and got too close to the outside edge of the hull. So, after the shroud attach points were installed I had to sand, fill, repaint and recoat that spot.
I tried tying the steps (?) on the first four rungs of the first ratlines, they looked okay, but not great. I had read about using contact adhesive to build the ratlines up off model, then installing as a unit. What I came up with is to install and tension the shrouds first. Then I took a length of thread and tied it off so I could spool out a foot or so. I then applied thin ca. once cured I was able to cut my "steps" to length, and glued in place on the shrouds. This worked well. I did the forward shrouds last night, all went well except I had a drop of ca run down the hull. I had to quickly clean that off, then sand, repaint, re clear coat and sand again, then polished out. Most people won't notice, it's not perfect but still looks good. I have to add the cross pieces of the forward ratlines and add lights to the cabin. Then she's ready to float.
Cash
▲
⟩⟩
pressonreguardless
DWBrinkman
RNinMunich
Colin H
Graham93
📝 Most details done
Flag
Quick update. I have the ships boat, nets, net boxes and anchor winch built, painted and installed. I also did a leak/ballast check in the tub, no leaks, might have to add an ounce or two of ballast depending on what battery I use. I have to make a decision on whether or not to add nav lights. After that decision is made and lights or faux lights are installed, I'll permanently step the masts then rig her, including the ratlines. Stay tuned, the ratlines are gonna make this an R rated program for language, just wait🤣🤣
Cash
📝 Masts, Aargh take 2
Flag
Hi y'all. I wasn't happy with the way the first mast came out, so I decided to make another go of it. Luckily for me I had to visit Home Depot for a toilet flapper valve, so I bought a small can of stain while I was there. I then swung by Hobby Lobby (US chain craft and almost hobby store) for some dowel and embroidery thread. I felt that the kit supplied rigging thread was too coarse, and the thread I used originally was too thin, the embroidery thread was just about right. I had also ordered a container of 4mmx8mm screw eyes that are the perfect size for the brass rings called for in the kit, and they worked out nicely.
I did a better job of tapering the wood this time, and once finish sanded, I gave the spars and masts 2 coats of gun stock stain, once that dries I shot all of the wood with Tamiya semi-gloss clear, then built up the masts. I like the way they look, much better than the painted one I did before. I still have to make up, paint and install the spar to mast "crutches" and then it's time to step the masts, build the bowsprit, and rig the whole thing.
Cash
📝 Masts!!!! Arrrgh
Flag
Hi y'all. Started working the masts today. This is where I really don't know what I'm doing, but I'm pressing on regardless. Two things. I'm not great at tapering masts, and I'm not great at rigging. I've built and rigged 4 Micro Magics, a DF65 and a Sterling Sailfish that I built with operable main and jib rigging, but this is….different….🤔
Anyway, I got the mast built up and did the rigging best I could. I didn't care for the thread that came with the kit, so I used what I had on hand. I think it's a bit too small in diameter, but I'll live with it for now. The instructions call for making small split rings with round nosed pliers, but all I have are small needle nose, so I used cut down brass cotter pins. It turned out okay, might go by the craft store and get more dowel and slightly larger thread and have a go at it again, but this is what I've come up with for now.
Cash
▲
⟩⟩
Peejay
jbkiwi
Graham93
📝 Skylights, cabin and etc
Flag
Hi everybody. Got a bit more done this week on the Kristina. The rudder, servo and linkage are in place. Now, the rudder linkage on this boat is external, and designed that way. It's mostly hidden by the ships boat on the fantail. I COULD have changed it up, kept the linkage under the deck, but the slope of the hull at the stern and the rudder placement would have precipitated an odd setup and a larger aft hatch for access, so I left it be. The skylights and cabin are built up from the laser cut sheet, the forward part of the cabin is embossed with the outline of the attached skylight. So that's where I glued the assembly to. It's offset just a bit, and the plans show it centered, but this is not the first time I've had plans and parts placement not jive. Not a dig at Deans, I've seen the same thing where plans and instructions do not match up in other boat kits and aircraft kits too. Anyway, the cut parts went together nicely. The fish gutting tables and most of the fish hold hatches are done, those are simple to build up but there's a lot of them, I still have 4 more to install.I went ahead and glued the furthermost small access hatch in place as I don't need it, my internal setup of battery and esc will be accessed by the main hatch.
The decals that came with the kit are cut and peel vinyl, the lettering is on a brown background, and I was delighted to find that the brown almost matched the NATO brown exactly…just a touch off. Once I had them in place and clear coated with semigloss they blended right in. A happy accident, as the kit calls out Humbrol paints and I'm using Tamiya. Anyway, I still have nets, net boxes, masts , etc to do, plus some touching up, buts she's taking shape.
Cash
📝 Hull and deck paint
Flag
Hi y'all. I decided to finish painting the hull after getting groceries early this morning. I used Tamiya NATO Brown for the upper part of the hull. I then used Tamiya Pure White for the waterline stripe. I've never painted the waterline before, always used trim tape. Anyway, once that was dry I shot the hull with semigloss clear. The brown is almost flat, the red very glossy, so the semigloss evened the colors out. I went ahead and painted the deck too. It looks good but I have a couple of places to fill and touch up, plus I need to clean up the bulwarks upper rail and paint that with a brush. I'm close to getting ready to do the superstructure, masts and details.
Cash
▲
⟩⟩
Dumaspittman
Norway
Peejay
📝 Starting hull paint
Flag
Just a quick update. I did a little more work on the skeg on the aft hull. Once the primer was dry I painted the lower hull with Tamiya bright red. I like the Tamiya rattle cans. They're a little pricey, but being synthetic lacquer it goes on well and dries quickly. My goal is to have the hull and maybe the deck painted by this weekend, then I'll turn attention to superstructure and other on deck details.
▲
⟩⟩
Norway
robbob
Len1
MouldBuilder
RonB
📝 Rear skeg and primer
Flag
Hi y'all. Quick update. I made a rear skeg about of 4 layers of 2mm plastic sheet. I felt like I could get it to blend in better than the white metal one supplies in the kit. It's been sanded and filled, but I need to sand one side again. I also primered the hull with Tamiya primer. At this stage anything I need to sand or fill will be more prominent, thus easier to see and correct. Once I clean her up and reprise, she'll be ready for paint.
Cash
▲
⟩⟩
MouldBuilder
jbkiwi
RonB