Hmmm! Good luck with the 2200kV CJ🤞
You may well get fireworks, but maybe not those that you are hoping for.
But frankly I don't think that kV rating of the motor is your real problem here.
OK you will get roughly 2.2 times the rpm using the same battery but I'm not sure that will help much. (BTW: You could also achieve almost the same effect by doubling the battery voltage on the 1000kV motor. You did not mention what voltage LiPo you are using!?)
No! I believe that you have two basic design problems here.
1. You have applied a great jazzy offshore power boat type colour scheme👍 but you actually have a relatively beamy hull more suited to a cruising type boat, with a roughly 3.5:1 length to beam ratio. Fast power boats and naval ships, e.g. destroyers, typically have l/b ratios of around 8 to 10. Reason: for the same power unit the higher the l/b ratio of the hull the faster the vessel can go.
2. The water jet! Here I admit I have no experience of water jets and do not know how their efficiency compares with a conventional prop. BUT!
I think that your WJ is basically too small (15mm prop🤔) and more revs may not produce more thrust and speed, but possibly just more cavitation and disturbance of the jet flow.
Your boat is 23" you say.
A few years ago I restored an Aerokits Sea Scout, built by my Dad in the early sixties.
She is 24" LOA and 8.25" beam. I.e. l/b ratio 2.9.
She has virtually the same hull form as your boat and is fitted with a Propdrive 2830 1000kV brushless running off a 3S LiPo driving a 30mm 3 blade conventional prop. And frankly I reckon she would run rings round your Lorelei in her present state. See attached video (U-toob link) of her sea trials or my Gallery post here-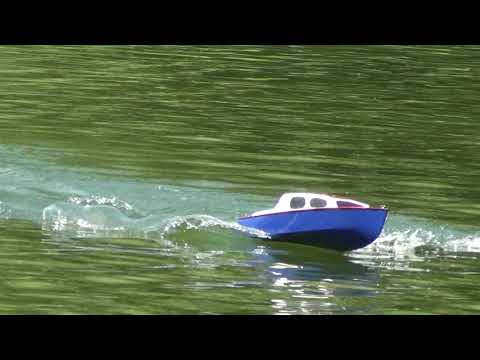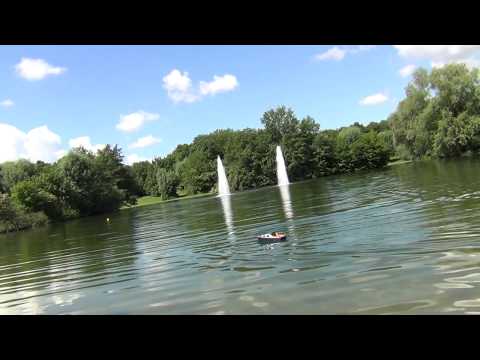 ▲
⟩⟩
No likes yet
This member will receive 1 point
for every like received